MEDICARE
Unless you have been exposed to Medicare before,
it can be somewhat intimidating.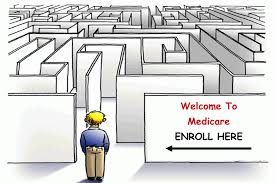 There are 4 parts of Medicare:  

A

,

B

,

C

& D.
When you reach the age of 65, or other qualifying event such as a disability, you are automatically enrolled in Parts A & B.
It is not necessary to know about the 4 parts of Medicare other than they are the Hospital "A" and Medical Coverage " B".   You have no control over them.  The separation is for the provider to properly bill Medicare or your insurance company.
The 4 parts of Medicare

:
Part A comes automatically at age 65 or other qualifying event. There is no cost for Part A other than deductibles which are normally covered by your insurance plan.
Part B also comes at the same time. Part B has a monthly premium or $135.50 (this amount WILL vary) unless your income is over certain limits.  Plus an Annual Deductible of $183.00,  ( Medicare Part B costs ) (Normally paid by your health care plan)
The monthly premium is normally deducted from your Social Security payment prior to your receiving it.  The Deductible is normally paid by your insurance plan.   
Of note: if you continue to work for an employer providing Part B benefits, you may elect to postpone enrollment into the Part B. Contact us for more information.
The Advantage Plan
Part C is referred to as Advantage Plans, or incorrectly as Medicare replacement plans, a total of 5 different plans.
Because of the value added benefits, they are becoming increasingly popular for enrollee's. Your primary concern will be the HMO and the PPO.  
By regulation, Advantage plans and Drug plans are sold by the county – referred to as the " Service Area ". That varies from County to County. They generally will include a Part D – Drug benefit. More information on its own page.
The Drug Plan
Part D is for drug coverage. The rules :::: The Government says that you are not required to have a Part D Drug plan…..  HOWEVER …. If you do not have a "Credible Coverage" for drugs and choose at a later date to obtain coverage, there will be a penalty that becomes a permanent part of your premium.
Income limits will also apply to any drug coverage with respect to premium charges by the insurance company.  The Government will set any increase.  
Credible Coverage is considered a Part D drug plan, Drug Benefits through the Veterans Administration or other employer / Union benefits.