Long Term Care – LTC
The Great Unknown
WHAT IS LONG TERM CARE?
Long Term Care is a Family concern.
Everyone is affected.
70% of retiree's will need care of some level
of Long Term Care, LTC.
Single women over the age 80
are the highest population needing extended care.
With that information, you can help in the planning for such 
care in the future.
LONG TERM CARE
 My first recommendation is expect it.
Rather than hoping you do not need it.
It is most often thought of as the 24/7 nursing home care. Which actually provides that least amount of Long Term Care.
Long Term Care is anytime that you need assistance of some type for your ADL's.  Activities of Daily Living.   Simply explained as things that we normally would do for ourselves.   The term ADL is an important abbreviation that you need to know.  Receiving benefits is dependent upon your ADL's.
The 6 ADL's

:
Bathing, Eating Toileting,
Dressing, walking and Transferring
Also of note are the IADL's. Click For more information
LTC can be as simple as your receiving post Hip or Knee surgery care.
LTC has 3 levels of Long Term Care.
Custodial Care, Intermediate Care and Skilled Care (24/7).
Custodial care accounts for 65% of your care.  It's the unskilled care, such as housekeeping, bathing, feeding etc.  Things that family can easily provide without much of a disruption of their lives.
Intermediate Care  is provided by a skilled person on a schedule. Not needed 24/7, but more skilled than the custodial care.  This level of care can be provided at home or in a facility.
Skilled Care is what most envision as LTC.   24/7  The most intense care, but also the smaller part.  The duration is normally 2 – 3 years.
Our concern is to have you prepared, both financially and emotionally, for the possibility or the eventuality of LTC.
NOTICE I USED THE PHRASE " DISRUPTION OF THEIR LIVES".  Very often children or other family members will say "" Don't Worry – we will take care of you "".  You need to worry ——-
Family can help to a certain point.  What they don't realize is that your care needs can disrupt their lives, schedules etc.  They have commitments for their own lives and then to add more with your own needs.  
What historically happens is that after the early stage,  the stress becomes too great for the family.  After that, care outside the home must be acquired.  Families can and may do it,   but don't count on it.  Be prepared.
Care outside the home will take the form of many options.  Early care can be in some form of assisted living.  There one receives a lower level of care along with custodial care.  If your requirements increase, you may move to a full 24/7 nursing care.
Selecting the location makes a difference.  For assisted living, you may find "home" like setting, up to major buildings with assisted living area's.   If you anticipate 24/7, you may look at a location that has full needs on-site.  You will be with people that you know still in the same location.  The smaller home setting may require you to relocate.
The Cost?
That is a large variable.  And it is expensive.   If you can live at home, you may save some of the expenses in the early stages.
Digressing for a moment….  Taking a logical view.   Irregardless of your finances.  If you need the care you will receive it.  
Beyond that, you can decide now and prepare how to cover the expense.
There are only 3 entities that can pay for your care.
1 – Self Pay
2 – Government Pay
3 – Shift the cost responsibility
Self Pay means that the money will come from your own resources.  Unless you have near unlimited resources, you can go through a large portion of your assets.  In doing this, you are consuming assets that you may have wanted to go to your spouse or family later.  This can easily consume all of your assets.  For example, a person with Alzheimer, healthy, but needs 24/7 care.  7 years @ $6,000/mo. (72,000/yr) = $ 504,000. 
Government Pay is when Medicaid steps in to provide the care.  By that time your assets are gone.  Either by payments or design.  By design, I am referring to  adjusting assets in order to qualify for Medicaid, thereby saving the family a large amount of money.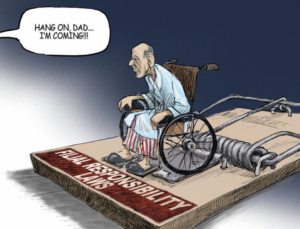 A little detail everyone overlooks is a law called FILIAL LAWS.  In 30 states across the nation this law is in effect.   Under Medicaid, the family wishes come second to the state.  Florida does not have any filial laws.  If your children decide to move you "Back Home", you may have a problem.  Google Filial Laws.
Shift the cost.  This allows you to leverage your money in order to provide the needed benefits later when needed.  LTC Insurance has traditionally been the source. That insurance has gone through drastic changes, making it both harder to qualify for and more expensive.  Many will look upon LTC insurance as a ""Use it or lose it" arrangement.
We can provide some alternatives to this to cover the costs.  Utilizing both Life Insurance and Annuities.  With both insurances, if you do not use it, the asset will pass to the heirs intact. More detailed information in the respective pages.
What is the possibility of needing any extended care?

This photo is of a building complex for Assisted living up to total care units. 1 of several in this area.
Would anyone invest into this magnitude of a building if they did not do the demographic research?
The need for planning is real and needs to be considered in your long term retirement planning.
The probability is that future care may be needed.  It is a great unknown, but it is best to be prepared for the possibility.
For more information, use the Email link below
Call us at   352.787.5061   1.877.822.3102
To view this booklet or to Download it, click on the image.
To receive a Booklet covering Long Term Care, Call or Email us.
 We will send one to you at no charge.