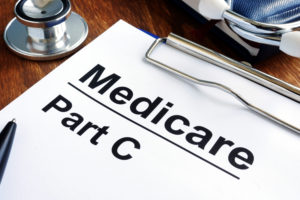 If you watch TV. You have seen the Football Player promoting all of the benefits that he could get with the Medicare Plan he is paid to promote.
That is an Advantage Plan he is speaking of.  There are many additional benefits available with an Advantage plan that are not available in the Traditional Medicare Supplement.
The Basics.
Part C  Advantage Plan
The plans provide in many cases, a savings for the Medicare enrollee.  Note that there are 5 Medicare Part C Advantage plans available.  Selecting the best plan for you will need a meeting to review the Benefits and Drawbacks of each plan.
The plans are regulated by Medicare. Therefore,  they have details to be explained.  Enrolling in the wrong plan may create problems.  A meeting will provide time for the plan comparisons.
  By Medicare regulations, Medicare Part C –Medicare Advantage plan (MA)  and Part D (PDP – Drug) plans are sold by the county of each state.
This is referred to as " The Service Area.".  For Example:  My local service area is Lake, Marion and Sumter counties.  The Part C Advantage plan designated for this area are not available in other areas.  Some plans may also be statewide such as the Part D – Drug Plan which covers the entire state of Florida.
Often the Part C Advantage plans are incorrectly referred to as Medicare Replacement plans.
If you choose an Advantage Plan, you WILL NOT LOSE MEDICARE.
You must have Parts A & B to enroll into either a Medicare Supplement,  Advantage Plan or a Drug plan.
Should you consider an Advantage Plan ?
The current trend is to have an Advantage plan.
The benefits of having an Advantage plan are that it may possibly save you some money, while at the same time offering additional benefits not provided by Original Medicare..  
Many people like the "Pay as you go" format.  With often no monthly premium, enrollee's prefer to pay a Co-Pay when they need care.  In the event of major expense, there are limits to protect your financial liability.
They of course will provide all of the benefits of care approved by Medicare.  The care provided between a Supplement and an Advantage plan will often, but not always, be provided by the same providers.   Providers that accept Medicare are not obligated to accept a Medicare Advantage plan.  Not all providers accept MA plans or are qualified to accept them.   Therein lies potential conflicts.  This is resolved during our meeting.
 The number of medical providers is growing rapidly.  We will check to ensure your Doctor is a provider prior to your enrollment.  Anyone with employer coverage may be familiar with " Networks" of health care providers.  Although the different companies have particular requirements, there are a lot of similarities.
Most companies offering Advantage PLans will include the drug benefits, eliminating your need to purchase a separate drug plan. Other benefits not covered by Medicare may include vision and Dental benefits, Podiatry,  24 hour access to a nurse, Portability outside of your home state and Fitness club membership just to name a few items.
What plans are available ?
The 2 plans you will encounter most are the HMO or a PPO.
The HMO will normally require you to select providers within the network, while the PPO allows you to go outside of the network.  Most plans will have a ZERO cost per month and work with Co-Pays at the time of service.
Advantage plans payments to providers are different from a Medicare Supplement.  With the MA Plans, the issuing company is solely responsible, 100% less your copay, for payment to the provider.  The plans are sometimes incorrectly referred to as a Medicare Replacement.   When you enroll into an MA Plan, you never lose your enrollment in Medicare.  That enrollment is required to enroll into an MA Plan.  You must have parts A & B  or Medicare.
Starting in 2017, the company, in our local service area,  I represent,  will also provide an HMO, HMO-POS, PPO with Drug Benefits, PPO without drug benefits and a DSNP plan for persons on Medicare.
Contact us for the plan availability in your area.  Medicare Part C, Advantage plans are available according to your location.  Some companies will not be available in all counties.
HOWEVER – the company we represent provides plans for every county in the state of Florida.  Because of the details, they can be initially more confusing. Before you enroll in one, be sure to contact us first.  The benefits and plans are approved by the Medicare and therefore come with restrictions.  
MEDICARE WILL NOT ENDORSE ANY PLAN FOR YOU. THEY WILL ENSURE ANY PLANS OFFERED THE PUBLIC,  MEET THE STANDARDS SET BY MEDICARE.
A word of caution – If you enroll into an Advantage plan that you do not understand, getting out of it can be a problem.  Call us and we will not let you get into the wrong plan for you.
Contact us for the plans available in your location.
For Supplements, Advantage and Drug plans, we can provide them anywhere in Florida.   Life and Annuities we can cross state lines for our clients.   We need to know your ZIP CODE, and the COUNTY of your residence.  You need to be a resident of Florida and the service area.  If there is a problem, we may be able to work around it.
For Life and Annuities,
we can cross state lines for our clients.