MONEY
You cannot live without it.


Making Money,
and keeping it.
2 totally different statements.
Our business is built around the  RICP®  concept of creating a plan for one's assets to last their lifetime.
To have money, make it,  keep it for a lifetime Income or Pension
Read more from Forbes report – RICP  about the RICP® Designation.
Throughout our "working years" we become conditioned to the premise that we must have  "X"  amount of money set aside for retirement.
Sometimes we miss the mark.  
Retirement is different from when you are working.  Your life changes from a 9-5 schedule to being everyday's a weekend.  Your income and spending habits will change.  Expectations of playing golf every day soon become boring and then what.  Sometimes your spending will often increase by more recreation and dining out.
Even at that,  it's easy and enjoyable adapting to retirement.
Previously we discussed the health or medical concerns of retirement.  This section will look at the financial side.  This makes everything in your life possible.  The last section (Knowledge) will cover other various questions or information that may be helpful.  Various Booklets may be viewed. You may receive Hard Copies ant no cost.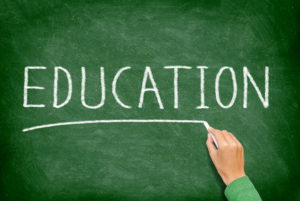 Your Monies safety –
Our Mission 
I am a firm believer in education.  Not only for myself, but for my clients benefit also.  When a plan is presented, the client will be prepared to understand what to expect.  No surprises.
Running out of money late in retirement
is not an option.
I also approach the subject in a logical manner.  Recognize the concern and how best to resolve it.  That's why my wife has often referred to as me Mr. Spock more than once.
Retirement Income planning is about maintaining your lifestyle you enjoyed before retirement. Not chasing high returns, only to lose it later.  Those who chase high returns, tend to lose.
Setting a plan in place to provide income for your lifetime. Revising as needed.  Taking into consideration health concerns as previously described, to estate plans discussed later.  In the interim, there will be taxes, IRA & 401K decisions to be made.  Ideally, your retirement plan will start years before your actual retirement date.
I prefer and now only represent safe plans that will never lose any client's money.  I have been previously licensed for securities.  Having seen several crashes, a change was in order.  A decision was made to use only SAFE and SECURE NON security products.   
I am not against them, I just don't want to be the person you seek when they go down or the fee's are greater than any gains.  I would still recommend moderate risk stocks for the potential of higher returns.  They can be for anything beyond your normal expenses.  Simply putting your safety ahead of risk.  
When using either Life Insurance or Annuity products, Long Term returns are not noticeably different from many moderate or conservative securities.  Higher risk stocks will generate a high return, but you can also lose all of it.  RISK & RETURN.
Life Insurance and Annuities are for planning that you can rely on to be there when you need it. Retiring when you want to. Not when it's a good time in the market.
Being able to retire regardless when the market is down 50%+ as in 2000 & again in 2008.  A Major Crash occurs about every 10 years.   It's about the safety.  Not having to change your lifestyle because the market has crashed.
In a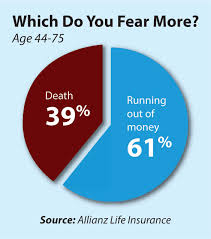 survey by Allianz some interesting information was discovered.
The chart to the left was most revealing.  Maintaining your current lifestyle is important.  Running out of money for several reasons is not acceptable.  I have seen it too many times.
Many of the younger Baby Boomers are of the mindset they will live near or into the 100's.  I am an Early Boomer. I have no reason to think differently.
We have determined 19 risks that anyone approaching retirement or already retired can face. View the booklet, The 19 risk's that you can be faced with.  Some may happen. Others may not.  Being prepared for them will keep you in control. 
Link to Allianz's calculator to have information about the amount of funds needed for retirement.  Realistically, we work with you and with your current assets in order to plan for your retirement income.  

Are you ready?
The following sections will cover part of the possibilities available with Life Insurance and Annuities plus other methods used.
You may have preconceived ideas about them.  Brokerage houses have been fighting them for a long time.  Unlike brokerage house's, there are no continuous fee's being paid when your portfolio goes down.  If there is a fee, it will be low or nonexistent.  The classic – Follow the money scenario.
Quote from the Thinkadvisor, Dec  11,2018
"" "Because annuities aren't a financial benefit to them, advisors don't offer them. Most advisors shy away. That's a big problem in the industry," says Anna Felix, an advisor with CalChoice Financial in Turlock, California.
"Annuities can be a good thing on a case-by-case basis," Felix says. "Some aren't good, but some are amazing."
Only 46% of consumers were aware that annuities provide guaranteed lifetime income, a 2017 survey by Jackson National Life Insurance and the Insured Retirement Institute found."""
 Brokers still get paid a fee if you win or lose. They always win.  You will see advertisements on TV about the high commission and come to them to avoid paying that commission.  
For the record.  #1, it's not as high as they claim.  #2, If you elect to use a FEE Based advisor, they will charge you a minimum of 1% of assets or more.  They are not always doing this style of payments for your benefit. 
For anyone on commission. They are paid by the company, not you.  100% of your money is working for you.
If in doubt, ask your broker a simple question.  " Will you guarantee, in writing,  what I purchase against any loss?" 
With Life Insurance or Annuities, you have that guarantee at no cost.  Read the following pages to give you some insight as to how these products can enhance your portfolio.  Not all of your answers will be answered. That is covered in a personal meeting, either face to face or other methods.